PSD File Extension
What is PSD file?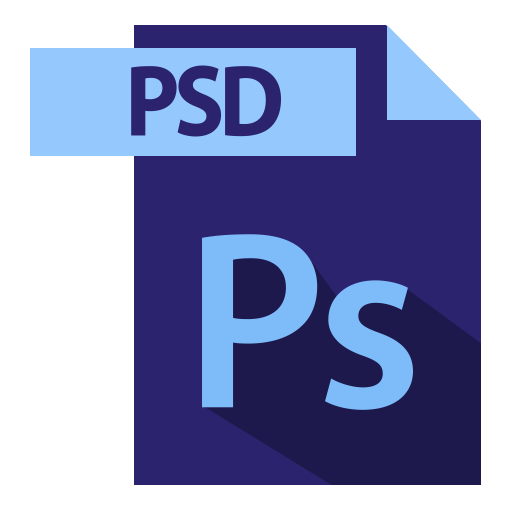 PSD file type is Adobe Photoshop default format of saving data, and file with .psd file extension is called Adobe Photoshop Document file. Adobe Photoshop is professional image editing program used for enhancing digital images and creating web graphics.
PSD image files may include image layers, adjustments, masks, notes and other elements that are specific for Photoshop, and supports multiple color modes as: RGB, CMYK, grayscale, monochrome, duotone, Lab color, multi channel color mode and others. Psd image that once has been converted to other formats as jpg, png, tiff or other non-proprietary file format, layers in psd file will be flattened and it will become flat image. After conversion, flattened image can not be converted back to .psd and user cannot work with layers anymore.
PSD file format is separated in five parts:
File header - contains basic properties of the image
Color mode data - specifies the length of the color data
Image resource - specifies the length of the image resource section and the image resources
Layer and mask information - contains information about layers and masks
Image data - contains the actual image data and the data compression method and the image pixel data.
How to open PSD file?
Programs that open PSD files:
Windows
PSD Viewer
File Viewer Plus
Adobe Photoshop CC 2019
Adobe Photoshop Elements
Adobe Illustrator CC 2019
Adobe InDesign CC 2019
CorelDRAW Graphics Suite 2018
Corel PaintShop Pro 2019
Corel Painter 2019
ACD Systems ACDSee 2018
ACD Systems Canvas X 2019
MAGIX Xara Designer Pro X11
GIMP
DXTBmp
Mac
Adobe Photoshop CC 2019
Adobe Photoshop Elements
Adobe Illustrator CC 2019
Adobe InDesign CC 2019
Snap Converter
Apple Preview
Corel Painter 2019
GIMP
Pixelmator 3